This posting is a little on the personal side, but very important!  I will keep my words minimal because there are so many other words from other people that I want you to read.  Please make sure to read all of it!  This is so important!
I received an email from sister in law earlier today telling me about an email that she received from Bishop Joseph Wambugu in Kenya who is overseeing an orphanage in Kenya.  I want to share his email with you.  After you read what he wrote, please continue to read what I have to say following his words.
Hi,
I was today woken at dawn by Rose Tambasi, the home mother of House of Mercy Children Home. This shocked me as usual. I do not get excited with her calls until I know her reason of calling. Taking CARE of over 80 kids with some very little ANYTHING can happen.
This time it was FLOODS. El Nino RAINS are on in Kenya now the last two weeks. In the coastal region, we have lost close to 10 persons and hundreds of families have been left homeless. In Nairobi especially at Githurai where House of Mercy is situated floods cover ground. The property we have RENTED is in a flood zone. Rose called me because floods are filling up in the rooms. These rains will continue until January 2010. Something has to be done.
We have THREE options to choose:
1. The first one is to REMOVE the kids again to another area hopefully better drained BUT more expensive.
2. The second option is to stay BUT have water drawn out daily. This situation may expose the kids to other health dangers.
3. Our BEST option is to FINISH OUR ORPHANAGE which very well elevated and flood free. Some $ 40,000.00 needed to finish it. With funds available we can have the kids move in BEFORE December 25 to do final touches with them it.
It is our DESIRE AND PRAYER that these kids not be exposed to more suffering. Their lives are full of pain and WE CAN through God's HELP give them a BETTER CHRISTMAS. I also feel for Rose who is with them every passing minute. I personally will be one HAPPY person WHEN these kids have a BETTER HOME. CAN WE do our BEST to change the situation? So much is needed for warmer clothes, enough Food, medication as cold is keeping them sick and hole free shoes as they have to walk in floods.
This is a CRISIS. PRAY and HELP us. So far such an appeal.
Much prayers and Love
Joseph
This letter from Joseph is a cry for help.  My sister in law, Jessica, spent some time at this orphanage last year, and after reading and hearing her stories, and seeing the pictures that she took of her time with these children, I kind of feel like these children are a part of my family.  The money that they have raised for the new orphanage has run out and the orphanage cannot be completed unless an additional $40,000 is raised.  The rain in Kenya will continue through January, but by then many lives could be in danger for these kids.  They are at our mercy!  Many of these kids in the orphanage are infants that cannot even walk yet.  This flood is truly hurting them.  Remember… God provides us opportunities to help our brothers and sisters.
I also want to include a piece from my brother in law, Michael, where he had been giving his church friends and family an update of their days while in Kenya.  This particular piece is where he wrote about his and Jessica's time at the orphanage.  You can truly read the love and emotion in his words about this place, and these children.
January 21st 2009
We made it to Kenya last night around 8:30 PM local time. I was so glad to be off the airplane. Thank God for our safe travels! The cell phones seemed to work as we landed but there was no signal in the airport. And so far the cell phones are no good in Nairobi. The line to get a visa was very long (about an hour and a half), but we all made into the country. Pastor Steve is missing his yellow fever card so we will have to try to have one mailed so that he can get out of Kenya.
The hotel is great. There is a beautiful outdoor pool and restaurant area. The rooms are simple with no air conditioning, but we slept comfortably last night. I woke up once around 6 AM with a chill, covered up and went back to sleep. The flowers and trees around the hotel are really nice. The weather is great. We are definitely not suffering so far.
This morning we read letters from home, prayed together and packed up toys and candies for the orphanage. I can't wait to see their smiles. All the staff, here at the hotel, have been very welcoming. One of the guys stayed late after work just to welcome us and talk to us for a while. His name was Nicolas. He gave me my first lesson in Key Swahili.
Asanti Sana – Thank you very much
Karibu Sana – You are very welcome
Jina lako– My name is
Rafiki – friend
Facts:
Kukuroo – Joseph's tribe. President's tribe
Lu Lu – Prime ministers tribe
We spent the rest of the day at the orphanage. "The House of Mercy"
There were 80 kids living in a very small space. (Not to mention another 50 kids that stayed there during the day while there parents or caretakers were at work. The entire building may be a little over 2,000 square feet including a 20' X 40" dirt court yard that is encircled by 9 10' X10' rooms that slept more than most houses in the US. The bath rooms drained to a ditch at the front door that you had to step over on the way in. There was also a small office storage area.
Now that I have painted a picture of how bad the living conditions were, let me tell you about how happy and beautiful the kids are. When we got there the kids performed for us for about two and a half hours. Singing, dancing, reciting memory versus, performing skits and they even did a little fashion show or parade.
Hopefully I will have pictures to go with these names.
Ian – Jessica's buddy that sat in her lap most of the day.
Fredrick – My buddy
Ruth – Jessica thought she really stood out. We might have brought her home if Jessica could have thought of a way.
Ann. Little girl in white jacket
Emily. Yellow sweater. She told me my hair was white.
Cynthia – Gold dress
Big Jon
Rose – beauty queen.
Rose – was the house mother. We also met her son Jimmy.
We also met Josephs staff
James Minor, Leah, Ester, Irene, Christen, David Minor, and Joyce
You can read from his words above how truly touched he was at this place and by these children!
My eleven year old neice has started the effort to raise this money.  She emptied her piggy bank of her $4.35 and prayed over it.  She has begun efforts to go out into her neighborhood to walk dogs and rake leaves for any change that she can muster up from her neighbors.  This, too, gives me mixed emotions.  These emotions are based on the fact that I wish we all could have the faith and the hearts that children like this have.  HOLLY I AM SO PROUD OF YOU! Bless her eleven year old heart for what she is doing.  She is such a special little girl and I am so proud to call her family.  Here is a picture of my neice… after all, this is a photography blog.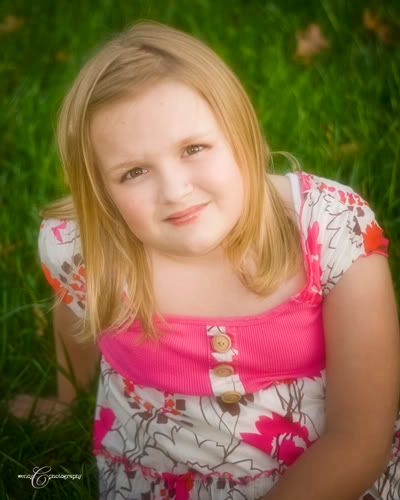 I really think that if this little eleven year old girl can empty her piggy bank and rake leaves and walk dogs to raise money for these children in Kenya, then we as adults should be able to do the same!  I am urging everyone who reads this to make any donation at all that is possible… even if it is only $5.00.  It would only take 8,000 people to donate $5 each in order to raise this money.  It would only take 4000 people to donate $10 each in order to raise this money.  You get the idea.  And remember that your donation is tax deductable.
Here are a few pictures that Jessica and Michael shared with me that were taken while they were at the orphanage in Kenya.  The building that they are in in these pictures, is the very building that is now flooded!
If you do not feel called to give, then please consider that you may be called to pray!  Prayer goes a long way!  If you would like to leave a comment on this blog to let them know that you are praying for them, then please do so!  I truly hope these children can keep their spirits high during this horrible crisis.
With all of this being said… I am going to donate all of the money I receive for sitting fees ($50 per session) to this fund during the month of December.  If you know me, then you know how much of a sacrifice this for me and my family during the holidays due to the fact that we have five children of our own.  So if you would like to help out with this AND have your photos taken for the holidays, then this is how you can do both!  So please contact me for an appointment!
Do not feel like you need to schedule an appointment for photos just to help out.  If you would like to help out and skip the photo session, then please click on the link below to donate.
To read more information about this orphanage and their crisis, please click on the link below.  You will see pictures of these children, as well as pictures of my family while visiting them.  There is also a link that you can click on to make a donation.  Any little bit helps.  And if you personally can't, then please forward this on to everyone in your address book because they may be able to.  I can't stress to you how important this is.
Thank you and God Bless!